Whole House Conditioner
4 Stage Water Processor
Softens and Conditions for less than half the price
of what most charge just to soften!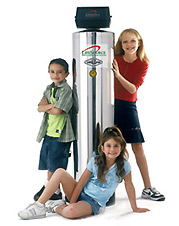 Our unique system, the "AQUAMATIC IV" is a 4-Stage Water Processor that not only Softens, but Conditions your water too. You and your family will enjoy all the benefits that come from having Clean, Clear and Great Tasting Soft Water!  Please call on our expertise for all of your water system repairs as well.
We always beat Competitor Prices by at least 10%